February was a great month for Text Blaze. We made many improvements and we wanted to take a moment to highlight three important new features:
Usage Analytics
Text Blaze can now estimate how much time you've saved based on how many snippets you've inserted. You can access this information on the Usage tab of the your account page.
If your team is on the Business version of Text Blaze you can even explore usage and time savings across your whole team.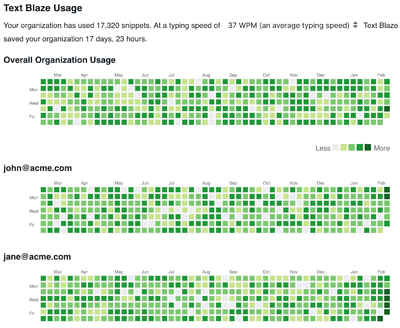 Share a Snippet Copy and the Snippet Exchange
Text Blaze has always allowed you to share groups of snippets with others. This is a great way for teams to make sure they are always using their most recent snippets.
But what if you just had a single snippet you quickly wanted to send over to a colleague? With the new share a copy feature, you can now quickly share a copy of a snippet with someone else. They will be able to view and comment on this copy and also import it into their own Text Blaze account.
What's even better, you even have the option to share these copies publicly as part of the Text Blaze Snippet Exchange. Over time we hope this exchange will become a great place to share your snippets and to learn from the best of other people's idea.
Chromebook Virtual Keyboard Support
Text Blaze has always been a great text expansion tool for Chromebooks. But until now Text Blaze only supported Chromebook's physical keyboard and we didn't support the Chromebook virtual keyboard. The virtual keyboard is the onscreen keyboard that appears when you convert a Chromebook to tablet.
We're happy to announce we've added support for the Chromebook's virtual keyboard! Now you can use Text Blaze on Chromebooks no matter whether you are in laptop mode or tablet mode.
And one more thing...
We also launched these community forums which include a Question and Answer section and a Features Idea Section. If you have anything you would love to see in Text Blaze, please suggest it!