Coda allows you to create dynamic documents, including tables, formulas, and integrations with other apps.
But most of our work is done outside of docs. Switching between our work app and Coda can be time-consuming and error-prone. With Text Blaze, you can interact with your Coda docs from anywhere - read data from Coda and type it quickly or update your document as you're typing with important information.
Let us know what you think and share your own Coda snippets in the comments
Also, let us know with which other apps you'd like to use Text Blaze
Coda and Text Blaze · Interacting with Coda docs from anywhere - Watch Video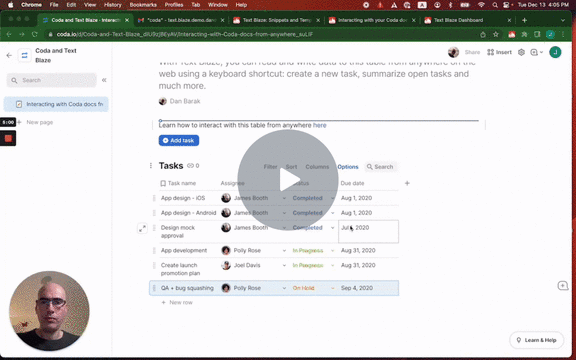 For this example, I used this public Coda doc which includes a task tracking table.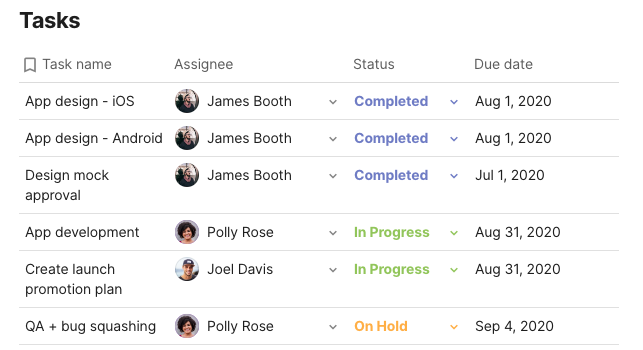 Interacting with the doc from anywhere
Getting started
You'll need your Coda API key to start interacting with Coda using Text Blaze. Get it from your Coda account setting page. Click "Generate API token" under "Coda API tokens".


If you haven't already, make sure that you have the Text Blaze Chrome Extension installed.

Copy any of these snippets to your dashboard, update the API key and try using them anywhere on the web.
Listing all open tasks
Quickly type an update about open tasks
Q: How do I get the doc id and table id?
A: See below for snippets that makes it easy to find the information?
Q: How did you create column_map - the mapping of column id to column name?
A: There's a snippet that does that as well below.
Create a new task
Send someone information about a new task and also create a new row in your Coda table
Provide information about a given task
Select one task from the list and quickly type its current status
Snippets that work across any Coda doc and table
This snippet lists your docs and provides the doc id for the selected one
This snippet lists tables within a given doc and provides the id of the selected one
For a given table, this snippet creates a map between the column id and the column name
Further reading
The Coda API documentation is here
These snippets use advanced Text Blaze commands such as: