I shared nine folders with fellow physicians and have been told they cannot be opened. Please advise.
The error message, from my colleague, was "Could not Load Folder
That folder does not exist or you do not have access to it."
Hi @Evelyn_Duvivier and welcome to the forum.
Your colleagues should have received a notification in their Text Blaze dashboard.


If they click on the bell icon at the top right of their dashboard, they should see a notification telling them that you've shared the folder with them, and asking them to enable it.
Can you confirm whether they have the notification please?
Hi. Jill Butler here. I do not see that notification.
I see an error message in the middle of the screen.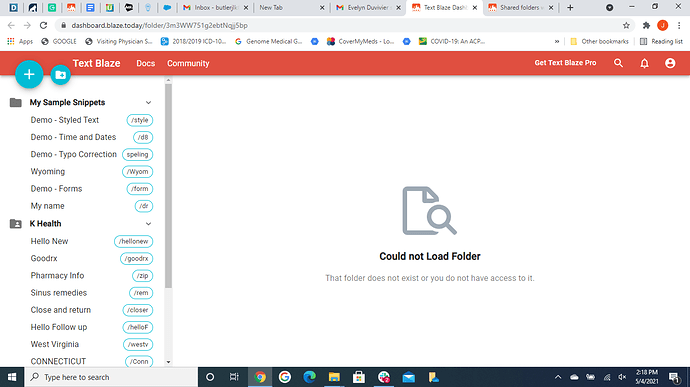 @Jill_Butler, so nothing shows up when you click on the bell icon at the top right?
@Jill_Butler - let's jump on a quick call. Please send an email to support@blaze.today with subject line "ATTN: CEDRIC" so I know it's for me.
Don't worry, we'll get to the bottom of this